How many chat applications are there on your smartphone? I am quite willing to bet if you use more than one chat application. But for me, if I have to choose just one chat application, then I will choose  WhatsApp.
The simple reason is that many contacts have been connected with this service, and throughout the experience of using this application, the level of data usage is fairly low compared to similar applications such as  LINE. This time, I will try to summarize a few tips on using WhatsApp more comfortably.
Access WhatsApp via a desktop application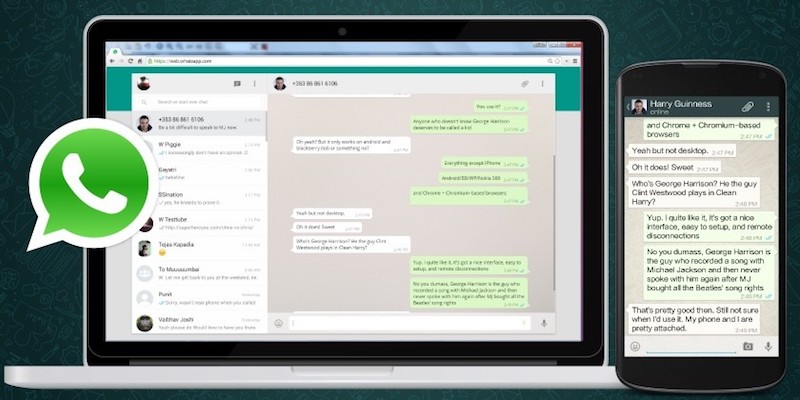 Worried that your boss will catch you using a smartphone during business hours? Hassle because you have to change devices when you have to reply to a message? Now with the presence of a desktop application for WhatsApp, you no longer need to hold your smartphone while chatting with your friends.
Simply download the WhatsApp client  here or direct WhatsApp Web access via the following link. Open WhatsApp, click the menu button, then click WhatsApp Web. Click the "+" button then scan the QR code on the screen. Voila, you can now use the desktop version of WhatsApp!
Use the same account with a different telephone number
Sometimes the bad quality of the network is a reason for someone to change their telecommunications provider. But it is not uncommon for people to stay with their old providers on the grounds that they don't want to replace the numbers that have been registered in various applications, including WhatsApp. But now, you can easily change the phone number registered with your new number on WhatsApp, because the new feature of WhatsApp has supported it.
Make sure your old number has been verified by accessing the settings and touching on your profile photo. Also, make sure your new number can receive SMS and/or calls and have an active data connection. After you insert a new SIM card, access settings, then tap on Account and Change Number. Enter the old telephone number in the top column and the new telephone number in the bottom column. Tap finished and verify the new number.
Keep the most important messages without fear of being scattered
Hundreds of messages running through the WhatsApp group sometimes make it difficult for us to find a message that contains important information. Therefore the Starred Messages feature will greatly facilitate users to mark certain messages to use later.
To star a message that you want, just tap and hold on the message you want to mark, then tap the star icon at the top of the screen. To delete a star, tap and hold on the message then delete the star icon.
To make it easier for you to access all of the Starred Messages, you can access them on the menu button then tap Starred Messages.
Save data usage by turning off the automatic download feature
Sending pictures and videos to WhatsApp, either through Capri (private lines) or groups, has become a habit for users of this messaging application. But what happens if those who use WhatsApp with limited quota can't help but have to download wasteful quota content such as pictures and videos?
The good news, users can turn off this automatic download feature to save on quota usage. You can do this by accessing Settings (Settings) then to Data Usage. You can set what type of content can be downloaded automatically when connected to cellular networks, Wifi or when roaming. You can also turn off the whole automatic download feature to save data usage.
"Hiding"
Sometimes you are busy enough to reply to everyone's chat on time, then how to get around this? Just hide the information when you last active (Last Seen) through Settings, select Account, and Privacy. Choose Last Seen to become Nobody. Consequently, you also cannot see when the other person was active on WhatsApp.
Move   conversation 

history

 between devices
The problem that often haunts when we change smartphones is whether the old chat history on WhatsApp can be returned on a new device? The answer is clear. All you need to do is access the Menu on WhatsApp, select Settings, and Chat Settings, then select Backup Conversations.
Before determining where the chat history will be moved, you have to make sure whether your smartphone has a microSD slot or not? If yes, then you just save it there then move the microSD to a new device and after WhatsApp is installed, select Restore. If your smartphone does not have a microSD slot like the Nexus, you have to manually backup by copying data from the/ sdcard / WhatsApp /folder.
Know the status of your message
Since WhatsApp provides a message status notification feature with a blue checkmark, you can easily find out the status of your message. Simply put, if there are already two blue check marks, the message is sent and has been read, while messages that have been sent but have not been read will be marked with a gray check mark. But if you want to know more details about the status of the message sent, just press the message in question and select info (with code (i) above the screen).
Avoid "blue ticks"
As discussed in the previous tips, a blue check mark indicates if you have read a message. But what if you want to read the message without getting caught by the sender? This trick does require a little complexity.
When you receive a message, don't open the message, but turn off the internet connection ( mobile data and Wi-Fi) then reopen WhatsApp and read the message. Reconnect your smartphone to the internet and you will see a checkmark that remains gray.
In addition, you can also remove the blue check by accessing Settings, Accounts, Privacy and turn off the check-in Read Receipts. Keep in mind that with this method you will also not be able to see blue ticks from other users.
Lock access to WhatsApp
Is your smartphone often borrowed by people around you? If yes, of course, you sometimes feel worried if someone tries to fad with your WhatsApp, especially if there is an important chat in it. To prevent unwanted things from happening, you can use a number of applications such as  Messenger and Chat Block and  Smart Lock. By using this kind of application, not just anyone can access the applications installed on it, including WhatsApp, because you can create a password to access certain applications.
Return   deleted 

chats
Is there a chat on WhatsApp that was accidentally deleted? Don't worry, there are still ways to restore it. You can use applications such as  ES File Explorer, and then you can access sdcard / WhatsApp / Databases to view your backup data   . Don't forget to change the file nname to msgstore.db.crypt and enter Settings then select Apps (WhatsApp) and Clear Data. Chats  that were previously deleted will come back again.
Additional features "hiding"
Previously I had explained several ways to "hide". When you are busy and have no time to reply to messages on WhatsApp after reading it, now this chat service   has been equipped with new features Mark as Unread which, according to its name, will not give you the message that it has been read. You can also decide the right time to answer a message.
To activate this feature, you can simply  tap  on a specific message, and choose Mark as Unread in the Options section.
Determines the priority of replying to messages
As a chat application  , of course, there are many groups in it. From work groups, to friendship groups are usually there. But sometimes the number of notifications makes us miss important messages. Now you don't need to bother because WhatsApp already has a new Custom Notifications feature.
As the name implies, you can easily make settings where notifications are important, less important and not important. The controller can also be set from  ringtone  and  light .
---
Chat
 applications   do provide a lot of convenience in communicating. Are there other tips that you want to know about WhatsApp or  other 
chat
 applications  ? Convey your opinion through the comments column.