The importance of making frequent and regular backups is immense. It is the only guarantee that allows you to save your work from an unexpected catastrophe. Then read how to back up the site and feel comfortable.
Having a backup of your site is a lifeline and the more recent and less work you risk losing in the event of a disaster. Learning how to back up is therefore essential in all cases where your site is in a critical condition: hacker attacks, bugs breaking the site, hardware problems of any kind in the servers, or even your mistake – even this it's possible.
Although the best hosting services guarantee maximum security and reliability, both in terms of protection from cyber attacks and for external disasters (flooding, fires, etc.), there is always the slightest probability that something serious may happen.
Is it worth risking, or is it better to learn how to make a backup and always keep your data safe?
How to make a backup of a site:-
With the term backup of a site, we mean duplicate, the backup copy of all the files and database that make up your site.
For example, a complete backup of a WordPress site must contain all the files that make it work, all the files that make up the contents, images, documents, but also data included in the database that will constitute the contents of articles and pages, the data of all users, comments etc.
Unfortunately, often due to inattention, laziness or the so-called "lack of time", backups are neglected considerably, with consequences also very serious for the victim. The incidents happen, and we can not predict them all. But we can limit the damage with frequent rescues, in order to recover as much material as possible in case of data loss.
I will explain how to make a backup of a website in different ways so that you can choose the method that best suits you. You will have no excuse to postpone this essential operation.
How to back up a site using Duplicator
Duplicator is a great WordPress plugin that allows you to make backups easily and securely.
Making a backup with Duplicator is very fast and I will explain in detail how to do it in my WordPress Course.
Install and activate the Duplicator plugin, then enter the Duplicator entry in the menu of your Message Board and click Create New to create a new Package, ie a "package" or block of data to be saved.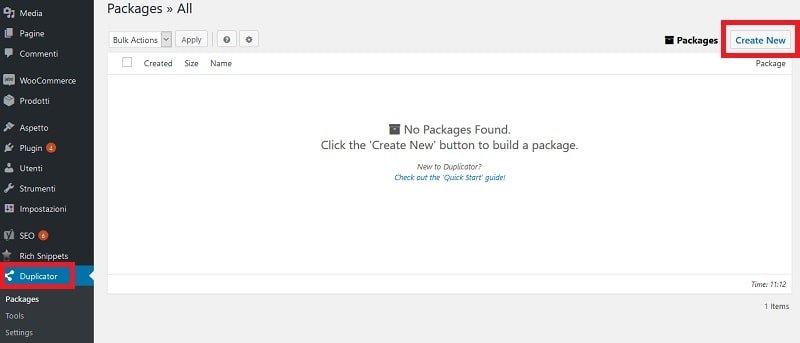 In fact, Duplicator allows you to choose which files to insert in the backup. If you leave the default settings, everything will be saved.
Let's look at the options of this passage in more detail.
In the Storage section, you will see the path where the backup will be stored. If you use the Pro version of Duplicator, you can also choose to archive the backup using a cloud service, such as Dropbox, Google Drive or others.
The Archive section is divided into two parts.
The file allows you to choose whether to save only the Database or to save only certain files. Using filters, you can exclude certain folders, files of a certain extension, or individual files from the backup. Therefore, the files you will indicate in this part will NOT be saved. Leaving everything disabled, all files will be saved.
Instead, the Database part of the Archive section allows excluding certain database tables from the backup. Those marked in red are critical to the functioning of WordPress, so never select them unless you are quite sure what you are doing.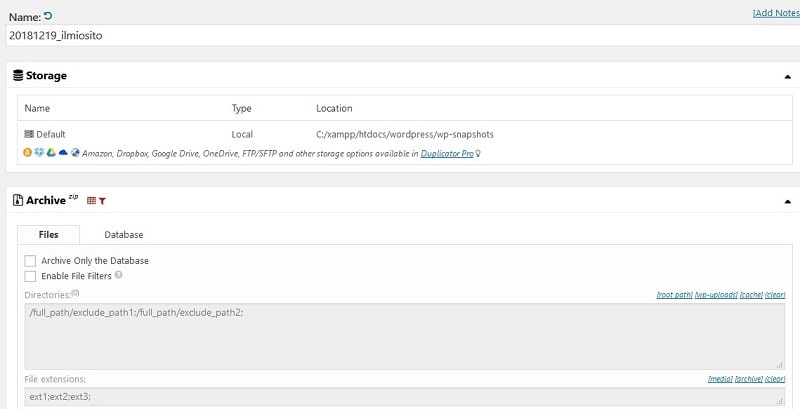 The last section, Installer, allows you to enter the database access data, so you do not have to enter them manually during the restoration of WordPress or for a new installation.
By clicking on Next you will be checked, after which, if everything is OK, click Build to create the backup package. Once completed, click Archive to save the backup of your site in .zip format.
All the content of your existing site at this time is safe.
How to back up a site using UpdraftPlus
Another interesting plugin to make backups in a snap is UpdraftPlus. As soon as you activate the plugin, you can directly enter the settings (which corresponds to the section Settings> UpdraftPlus Backups ) and immediately create a backup by clicking on Backup.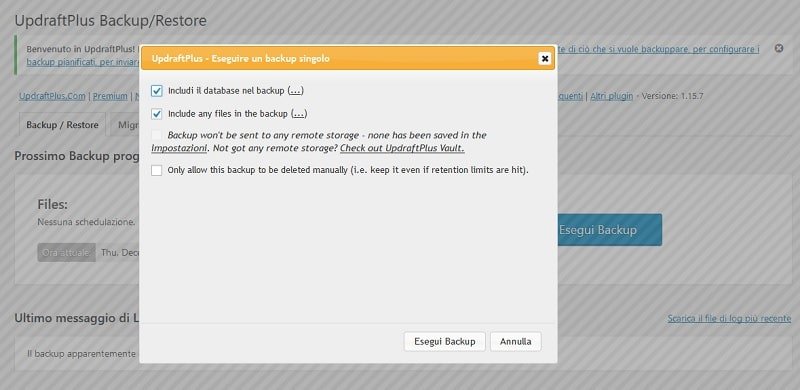 Choose now whether to back up all the database and all files (recommended), otherwise click on the dots to choose which tables to exclude or if you do not want to insert plugins, themes, uploads or other folders. Click on Backup Now and your backup is ready. As you can see, making a backup of your site with UpdraftPlus is very simple and fast.
There are however many other settings to customize your saves, as the important option for automatic backups, which I will discuss in detail later.
How to make a manual backup
Here is how to make a backup manually. You will first need to save the files and then export the database. Saving only one of the two things will not allow you to restore your site if necessary.
Before proceeding, create a folder on your computer called Site Name – Backup followed by the date of saving. It will be easier to find it when necessary. For example, SOS-WP-Backup-01-01-2019.
Within this folder, create two more that are called File Backup and Database Backup.
And now let's see how to save all your data.
1) Manual backup of a site's files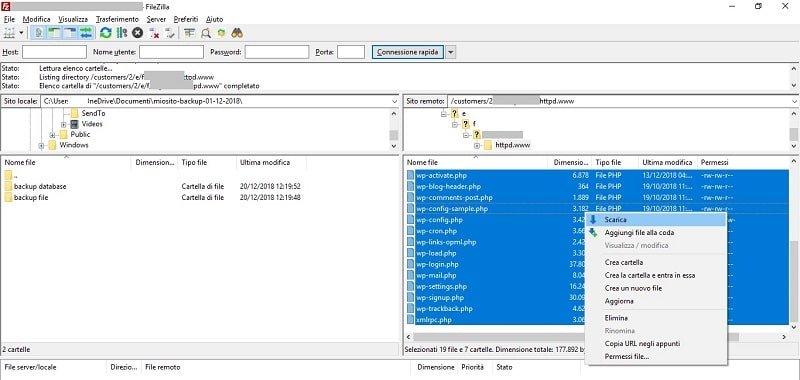 To save all the files that make up your site, you will need to connect to it via FTP.
Open an FTP client such as FileZilla and access the root of your site, ie the root directory. Here you will find various folders, such as wp-admin, wp-content … and various files, such as wp-blog-header.php, wp-config.php etc.
Select all this content and drag it into the Backup file folder of your computer, which you will find on the left side of the FileZilla window.
This download may take a few minutes, depending on the amount of data to be downloaded.
2) Manual backup of a site's database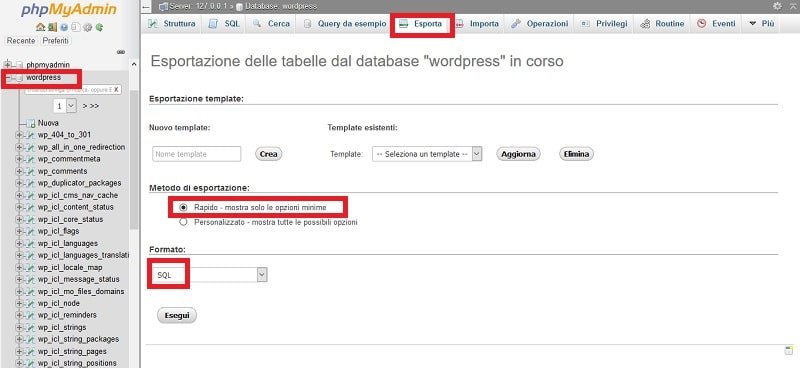 To complete saving your site data, here's how to back up the database.
In technical jargon, this procedure is called a database dump. All table contents will be exported to a .sql file that contains the queries needed to rebuild the entire database.
Log in to your hosting account and enter phpMyAdmin. Click on the database you want to save, for example, WordPress, then click on Export.
To export all the databases in a single file, instead, click on Export directly from the phpMyAdmin home, without selecting any database.
You can safely leave the default settings, ie Quick Export Method and SQL Format. Clicking on Run will generate the SQL file with instructions for restoring your database.
I repeat: to make a complete backup of your website manually, you will need to save both the files and the database, otherwise, you will not be able to restore your site!
How to back up a site from cPanel
The rescue procedure from cPanel is similar to the manual one, the result is the same but the execution is a bit simpler.
Also in this case, first of all, create a folder for backup on your computer and, inside it, create one for the backup of the files and one for the backup of the database.
If you use a hosting like SiteGround, which uses cPanel, log into your account and enter the phpMyAdmin section. Then select the database to export and click Export at the top of the page.
The default options, even in this case, are fine, namely Quick Export Method and SQL Format.
Start the procedure and save the .sql file in your database backup folder.
Now go back to the main page of the cPanel and enter the File Manager. Select the public_htmlfolder and click on Collapse. Choose Archive .zip between the compression options. In this way, you will create a .zip folder inside your site, which you will then have to download to your PC and save in the file backup folder.
How to back up a site with other control panels
If your hosting does not provide the cPanel, but you have other systems for managing your web space, you can still make a backup similar to the one we have just described.
For example, if you use Plesk, navigate to Websites and Domains> Backup Manager> Backup. I advise you to leave all the default settings because in this way you will save all your data.
Select Archive in to choose where to save the backup, then you can decide what type of backup to run: Full will save all site content, while Incremental will only save files that have changed since the previous backup date. So I highly recommend Full backup.
Once finished, the backup will be available in the appropriate section of Plesk.
By now, any hosting provides a quick and easy manual backup tool and these tools all look alike. But if you do not manage to manage it, you can contact their help center or opt for the manual procedure.
How to make automatic backups
As mentioned above, there is the possibility to schedule backups of your site automatically. In this way, you will no longer have to remember to perform periodic backups manually.
The most convenient method for scheduling a backup is the one included in the UpdraftPlus plugin.
Go to your Wall and navigate to Settings> UpdraftPlus Backups. Go to the Settings tab: the first two items refer to automatic backup, one for files and one for the database. From the first drop-down list, choose how often to back up from 4 hours per month. Then, choose the number of backups to keep. This means that if you choose for example 7, 7 backups will be saved, then the eighth will overwrite the oldest and so on.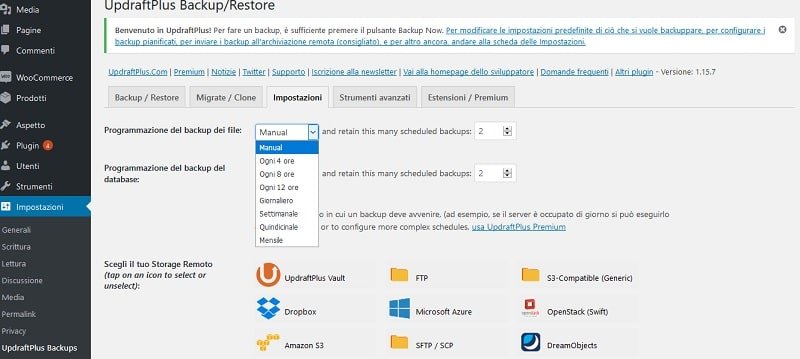 Go to the next section, where you choose where to store the backup. You can use different cloud storage systems, such as Google Drive or Microsoft OneDrive, or you can save in a web space through an FTP connection, or send the backup via email.
At the end of the page, click on Save changes to start your automatic backups.
In addition to configuring a plugin like this, you can check with your hosting what are the options for automatic backups. For example, SiteGround offers an automatic backup a day and holds up to 30 backup copies, included in all of its plans. Other hosting plans provide automatic backups only for the most advanced plans, others offer only paid services.
How many backups do you keep?
How often do I have to make a backup? How many copies should I keep? And where do you save it? These are the questions that our users often ask us with great apprehension.
There is no right answer to them, it always depends on your case.
If your site is updated daily with lots of new content, you'll need much more frequent backups than a site posting a week. For example, if you have an eCommerce of a certain level, several backups per day may be useful, while if you have a blog, you may need one backup a week.
Furthermore, for greater security, it is preferable to save backup copies with different systems. Never save on PC only or on Dropbox only. I do not mean to scare you, but always thinks of the worst! Your computer's disk may break, your Dropbox account may be hacked …
The chances that these cases will occur, and above all at the same time an emergency on your site, are perhaps minimal, but keep them always present as "possible", because you really never know!
Conclusion
Now that you understand how to make a backup of a website, I suggest you choose the method you prefer and go immediately to make one. Even better, plan your automatic backups and in any case periodically check that they are done correctly.
The time taken for your backups will never be lost. Disasters sometimes, unfortunately, happen and thinking "so much what you want it to happen" has never led anywhere!
How often do you back up your site?
Which instrument do you entrust to?
Let's talk about it in the comments.
You may also read:-  Top 10 WordPress Themes For Bloggers l You Must Know