8 Best Chrome SEO Extensions for Analysis and Statistics:-
Chrome has many extensions that we can get either free or paid. If you are a web developer or web admin, maybe there are times when you need an extension that can monitor the performance of the website. Especially to monitor the performance of increasing SEO and traffic. In this article, we will discuss, some of the favorite SEO chrome extensions of admin to analyze the improvement of SEO on this website.
Image from: www.yasir252.com
In essence, all of these extensions work only as benchmarks. So don't get the wrong perception, the extension won't help us to improve website SEO directly. But with the statistics provided, it might be able to open up some important information related to SEO enhancement techniques on the website.
1. MOZBAR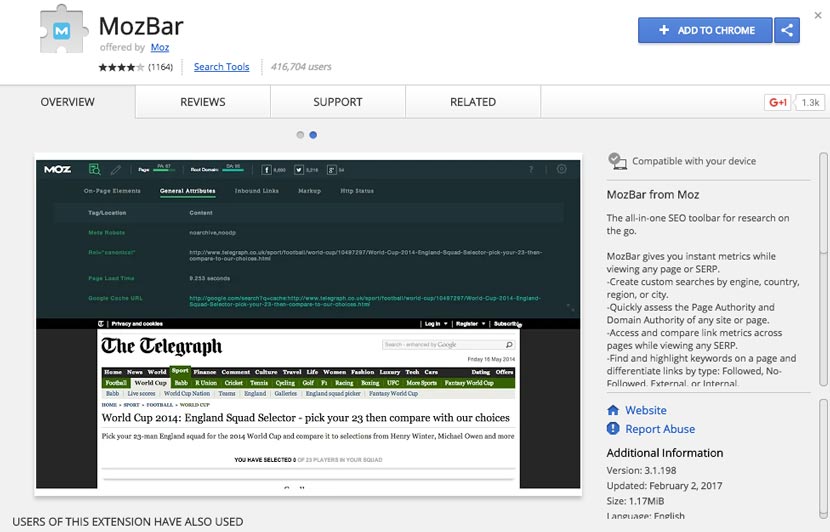 Mozbar is probably one of the best SEO chrome extensions that admin uses. Have very complete metrics to analyze SEO from a page that you open. Some features:
Page Authority
Domain Authority
Alt Text
Meta Robots
Number of Backlinks
IP and Server Information Location
Highlight follow,  nofollow, internal, external link and main keywords
You will also be given information when searching Google. So without having to enter the page, you can see some of the metrics from the website.
2. SEOQuake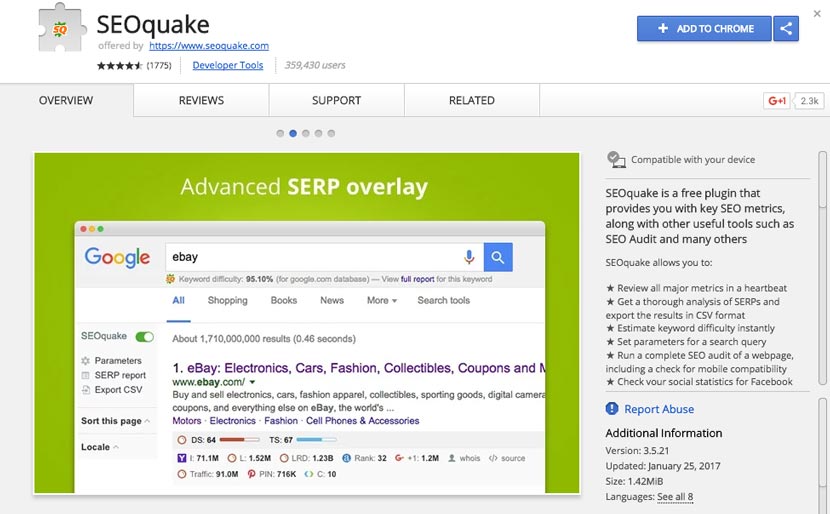 Now we will discuss the SEOQuake extension from SEMrush. Have the ability to see Google PageRank, Alexa Rank, and many other SEO parameters easily. Here are some features:
Google PageRank
Google Index Status
Alexa Rank
Age of Website
WhoIs Link
SEMRush Rank
Nofollow Links
Just like Mozbar, these extensions appear when you do a search on Google. Later, there will be some parameters for metrics that might help you to analyze SEO from several sources.
3. Check My Links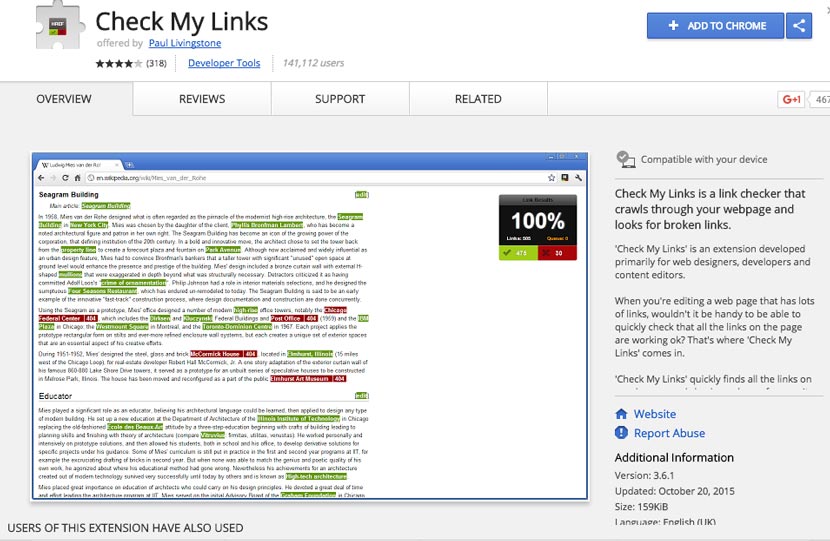 Check My Links is a chrome extension that works to check on page links more easily and efficiently. The way it works is more like a crawler, where you simply open the page you want to scan, then automatically this extension will present the data link in the form of highlights. For the link that works, it will be marked in green, while the red for the error 404. There is also a feature to see links that do not follow.
4. Majestic Backlink Analyzer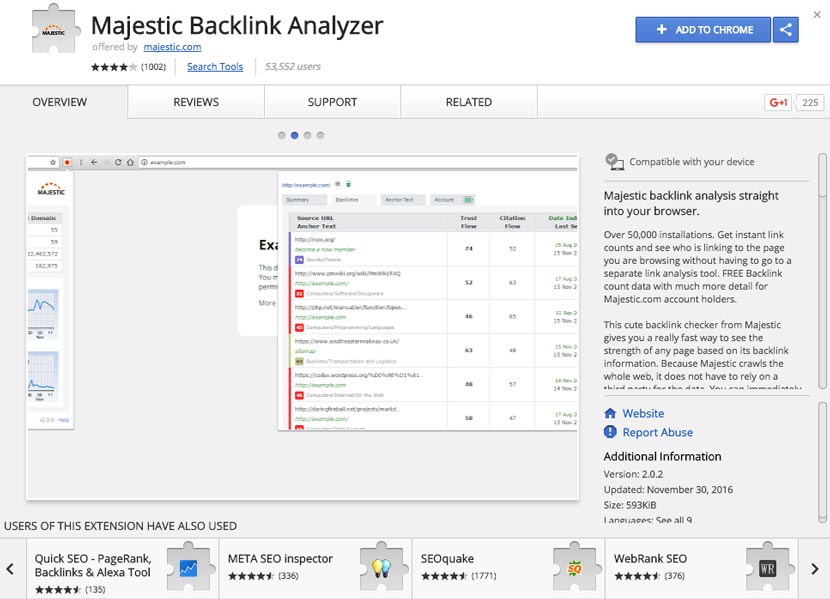 Different from other extensions, the function of Majestic Backlink Analyzer is to give us data about the Backlink website (link to site). Majestic uses their own metrics to find backlinks from a website. With this too, we can find out which backlinks give positive value to SEO, or which ones have a negative impact on SEO.
5. Alexa Toolbar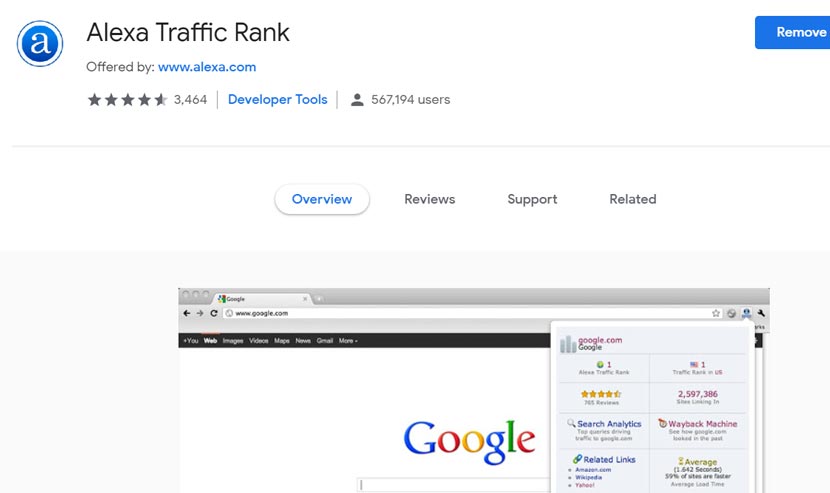 Actually, the Alexa Toolbar is not an extension to monitor SEO, but from here you can compare several important metrics such as Pageviews, Time on site, and number of visitors. Compare your website ranking with other similar websites (competitors). From here too, you can see 5 keyword search competitors. There are also features to see related links, and much more.
6. On Crawl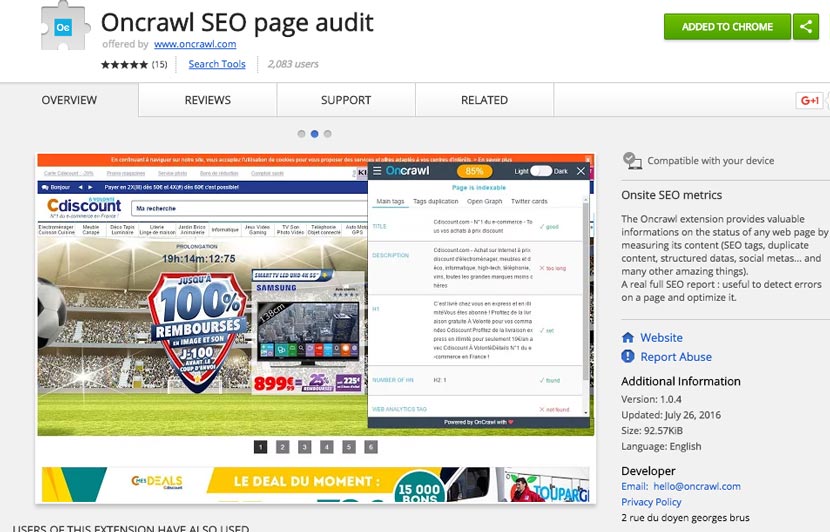 Doing SEO Audit can be easier with this chrome On Crawl SEO extension. You just need to open the page you want to audit, then automatically On Crawl will present several techniques to improve your on-page SEO. Including:
SEO tags
Duplicate and near duplicate content
Structured data
Social metas
Linking
Load time
With this extension, you can get a full SEO report from a page, and also know how to optimize it. More or less this plugin is as rich as Google Lighthouse, it's just far more complete.
7. Google Page Analytics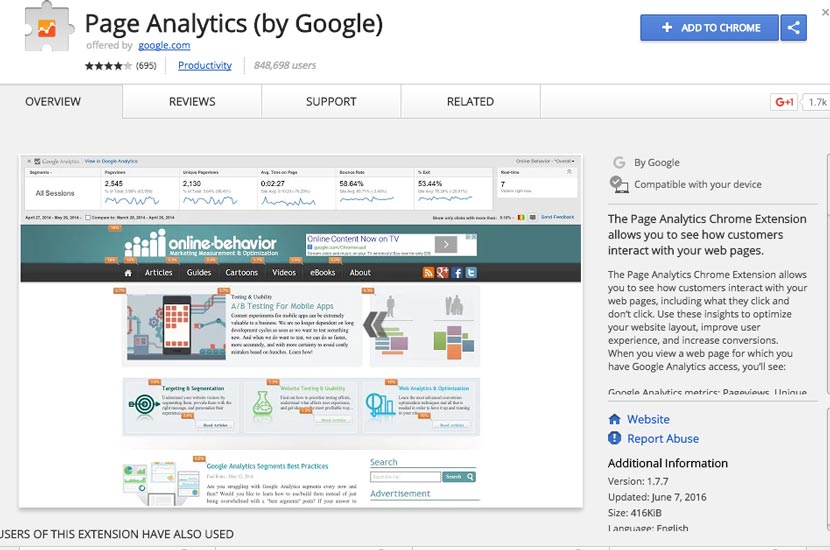 Google Page Analytics  functions to connect your Google Analytics account. So that when loading a web page, this extension will automatically present information about the open page. This extension only works for websites that you have integrated with Google Analytics.
8. Similar Web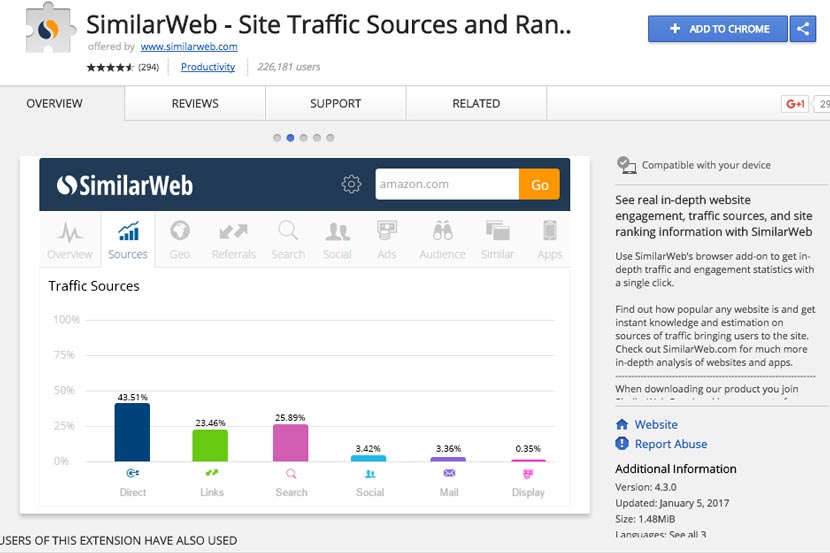 Similar Web has a variety of sophisticated tools and metrics to monitor the performance of other websites. For example traffic, engagement, bounce rates, top countries and many more. You will be able to get some statistics, the data from a website is just a click of this extension.
After installing all the extensions above, then your next task is to do SEO optimization on the website. Maybe useful!
Thank You.